lately i have been working on what could possibly work as a redesign for the wiki which ill put to use if my adoption request is successful. below you'll see some examples of what i plan to use and there's also some polls so you can have a say on this as the design of a wiki is very important and i feel like the community should take part in this as well, rather than just the people redesigning the site. also if youre woindering most of this is inspired by art angels visuals, which i dont think anyone will mind since its grimes' most recent album and the colour scheme used on the album cover could totally work for the wikis design in my opinion
logo
my main goal was to find the official grimes logo (which i successfully did through ripping it from the grimes webstore) and find a similar font to it, which i later realised to be impossible since the logo does not use a font and is rather grimes' own handwriting). the following is the grimes logo with wiki written next to it using the DK mama bear font (closest (free) font i could find).
this logo would be used on top of the mainpage, but i dont know whether to use it for the logo next to the contents tab as well since i have this other version, which includes a ripped head of the monster from the art angels cover (taken from grimes' tumblr rotating loading image, and edited for better quality) which i think could maybe work better given its filesize and i wouldnt have to resize it so much for it to fit. vote below

for the wiki logo next to the contents tab
favicon
for the wiki's favicon, i have 2 suggestions. i think maybe we could use the small square from the art angels cover below No. 4, which features a small drawing which in fans' perspective represents grimes herself, or the art angels cover monster which i also suggested including in the logo next to the contents tab. vote


background
although i havent done much work on this part of the wikis design, i have 2 suggestions: a zoom in on the art angels cover, featuring solely the flying head, triple eyed monster with the blue background and stars, without the art angels logo and and the thing on the side, and the following press photo of grimes. i think both would work nicely. vote on this as well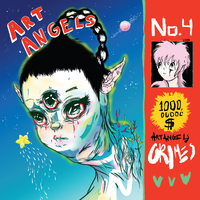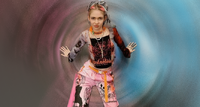 for the wiki's background
other things
for the mainpage, we could have a slideshow featuring a photo of grimes, linking to the grimes page, maybe a picture for art angels linking to art angels album page, and a picture for flesh without blood video (her most recent music video). then a section for grimes discography (albums/singles), a short section about grimes, a section for the chat & recent blogs, and that would be it for now, although i later plan to have a section for featured article and featured cover as well.
speaking of chat, i also plan to enable chat, which i think would be nice and this wiki has a somewhat average amount of users now so having a chat would make chatting much easier as well as fun. i want to keep message walls also, but i'll let you guys decide on both of those things as well:
talk pages or message walls
all headings on the mainpage would be done using DK mama bear font, the font i mentioned earlier and used for the grimes wiki logo. i dont know what else to mention about the wikis redesign. you guys can comment all your suggestions and i will definitely put them into consideration. thank you so much for reading!
Ad blocker interference detected!
Wikia is a free-to-use site that makes money from advertising. We have a modified experience for viewers using ad blockers

Wikia is not accessible if you've made further modifications. Remove the custom ad blocker rule(s) and the page will load as expected.